@TotallyMUFC
: Cruzeiro have responded to fresh speculation about star player Everton Ribeiro and Manchester United.
http://t.co/FLH2JA2Axp
9 mins ago
Cruzeiro insist they are not in talks to sell Everton Ribeiro | Football News | Sky Sports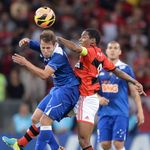 Sky Sports Football has all the latest news, transfers, fixtures, live scores, results, videos, photos, and stats on Manchester United Football Club. ...
www1.skysports.com